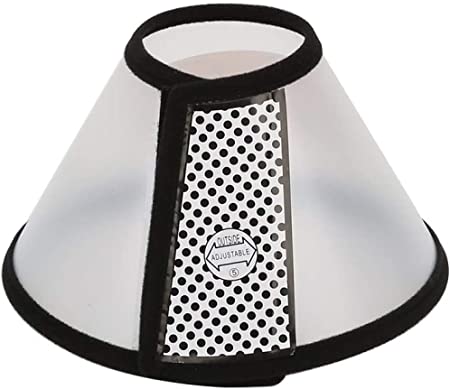 pet protection cover, collar for cats, mini dogs and rabbits
This protection cover made of imported flexible plastic is safe, strong and novel design.
with cotton flannel as the edge it will never hurt the pet .
The joint pasts employ fastening tape. resulting in ease of use and fitting for pets in various size.
| | |
| --- | --- |
| select size | 2(34.2*17.9), 3(38.9*20.7), 4(45.8*34.3), 5(52*27.9), 6(59.8*30.8) |
Quick Comparison
Settings
pet protection cover, collar for cats, mini dogs and rabbits

remove

Flower Fountain with LED Nightlight

remove

Rouletties Mix Cat 152.6g

remove

Rouletties Catnip Cat 44.2g

remove

Rouletties Cheese Cat 44.2g

remove

Top 10 Cat Multi-Vitamins 180 tab

remove

Name
pet protection cover, collar for cats, mini dogs and rabbits

remove

Flower Fountain with LED Nightlight

remove

Rouletties Mix Cat 152.6g

remove

Rouletties Catnip Cat 44.2g

remove

Rouletties Cheese Cat 44.2g

remove

Top 10 Cat Multi-Vitamins 180 tab

remove

Image
SKU
pc2000
HA43747W
BE10550
BE10553
BE10551
BE10907
Rating
Price

AED

140.00

AED

38.00

AED

16.00

AED

16.00

AED

47.50
Stock

Out of stock

Availability
Out of stock
Add to cart
Description

This protection cover made of imported flexible plastic is safe, strong and novel design.
with cotton flannel as the edge it will never hurt the pet .
The joint pasts employ fastening tape. resulting in ease of use and fitting for pets in various size.

- The petal top enables your cat to drink even when the fountain is turned off - Features handy water level indicator window with LED nightlight - Allows 3 water flow settings for picky drinkers - Includes Triple Action Filter for clean water at all times - BPA-free (all components excluding adapter)
Rouletties mix are tasty, fun treats for cats to enjoy.
Rouletties Catnip are tasty, fun treats for a cat to enjoy.
Rouletties Cheese are tasty, fun treats for a cat to enjoy.
Top 10 is a food supplement for cats. It contains essential vitamins, minerals and trace elements that promote vitality and strengthen a cat's physical condition. Top 10 encourages the natural development of bones and teeth of young cats and ensures a glossy coat and bright eyes. It also contains taurine for a strong heart and good eyesight.
Content
Weight
N/A
N/A
152 kg
44.2 kg
44.2 kg
0.5 kg
Dimensions
N/A
N/A
N/A
N/A
N/A
N/A
Additional information

| | |
| --- | --- |
| select size | 2(34.2*17.9), 3(38.9*20.7), 4(45.8*34.3), 5(52*27.9), 6(59.8*30.8) |